We treat all Oriental rug cleaning jobs that come to us with the same service and quality even if they were not purchased from us.
To show you the care and time Lov 'N Kare Carpet Center takes with our Oriental rug cleaning work, here is our patented step-by-step procedure for your carpet care. We also carry a full collection of liners and pads for your rugs.
1. Inspection
When a rug is inspected in the plant the whole rug is completely visible. Often customers are unaware of existing problems because furniture is on the rug and it is not entirely visible. An example is moths that eat from the back to the face until it is a serious problem like this and make repair recommendations. At this time it is also measured and billed accordingly.
2. Dusting / Beating
A carpet's worst enemy is dry soil. Dry soil consists of small sharp, particles that sooner or later will wear through any rug. To effectively remove dry soil a rug has to be fed into a large beating machine. The beater pounds, vibrates, and vacuum the entire rug while upside down so dirt and sand can fall out freely.
3. Spotting
The next step is to pre-treat stains. The rugs are unrolled one by one, the stains are identified and propery treated. Some Common stains we've treated here range from Wine, Pet Urine, Blood, Salt, Ink, Oil, Fruit, as well as Paint Stains.
4. Presoaking
After the rug is treated for stains, we start our presoaking. Hundreds of gallons of warm soap flakes and warm water are pumped onto each each rug. Rotary scrubbers then go over each rug. (the key to cleaning an area rug is a lot of soap and water; due to the fact wool has a natural water repellency.)
Detergents or chemicals of must not under any circumstances be used. They reduce the fat content, and therefore the luster and durability of the wool. Superficial washing cleans only the pile and presses the dirt into the foundation, causing the basic fabric to rot.
5. Washing / Grooming
After each piece is submerged it is a fed into a huge washing machine. The first step of the machine is a traveling jet. As the rug moves further along, three lines of soft brushes scrub every inch of the rug. Next, the first rinse followed by a bath and double rinse which totally flushes the rug. The last part of the washing process is a wringer that squeezes the excess water out of the rug with 130lbs of pressure. We then groom the pile, treat fringes, deodorize, etc.
6. Drying
After grooming, each rug is hung on a pole and conveyered into the dry room. The room is heated to where the rugs dry in 2 to 4 hours. We also exhaust the humidity and circulate the air to control the drying time.
7. Inspection
After the rug is completely dried, it is conveyered down to an inspection station. If need be, it is re-spotted, vacuumed, etc. Once accepted, it is wrapped and ready to go back to the customer.
However, after inspection of your rug, if necessary, we will repeat this entire process again.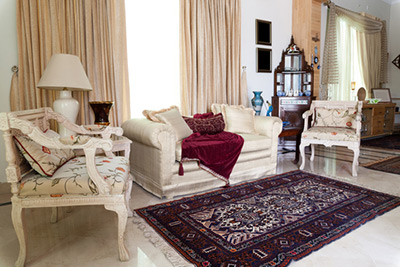 Helpful Cleaning Facts
FACT #1 – Over ninety percent of Professional Carpet Cleaners use Hot Water Extraction (Steam) Cleaning as their primary method for residential cleaning.
FACT #2 – No cleaning method removes all soiling. Hot Water Extraction (Steam) Cleaning, when done properly by a trained, certified professional cleaner, is the most effective cleaning method for removing the greatest percentage of soiling.
FACT #3 – No cleaning method leaves no cleaning solution or moisture residue. Hot Water Extraction is the only method that uses water to freely rinse cleaning solutions from the carpet the same way you use water to rinse your fabrics when they are cleaned in a clothes washer. Hot Water Extraction, used properly, leaves the least amount of residue behind after cleaning.
How Often Should You Clean Your Carpets?
A good rule-of-thumb would be to professionally clean your carpet every eighteen months.
Call us today to schedule an appointment: 877.291.7847
But no carpet is ever "stain-proof", but added carpet protectants, when properly applied, will enhance stain resistance to accidental spills and spots. It will also help remove more dry soil during vacuuming.
Never select a cleaning company solely based on price. Cleaning is not as cheap as some would like for you to think. Their technique is to advertise a low price to get you to call them, so they can push their low quality, ineffective goods at higher prices than what the real professionals charge. Thorough cleaning is not cheap, but it will extend the useful life of your investment and care for your carpeting in a way that will save you money in the long run.
MOTH Detection
How Do You Know If You are Harboring Them?
The actual flying adults. When a lot of flying adults are present the infestation can be considerable.
Loose carpet fibers resting on top of the pile. This results from the larvae actually eating the knots off the foundation of the rug.
Cocoons – 1/8 inch diameter x 1/2 inch long. They will be slightly fuzzy cylinders, usually the same color as the rug's pile. Larvae camouflage their cocoons to blend in with the color of the wool that surrounds them.
The actual larvae squirming along the pile surface and underneath the rug.
If you're in South Amboy, Perth Amboy, Old Bridge Township, East Brunswick, or Hazlet, NJ, contact us today to schedule an appointment: 877.291.7847. We do Oriental rug cleaning, drapery cleaning, furniture cleaning, and more.