The old days of mops and toothbrushes are gone forever! Lov'n Kare can also clean your tile & grout to make it look like it was freshly laid.
Our new technology here at Lov 'N Kare Carpet Center allows us to clean your tile and grout with highly pressurized hot water with complete control and removal for the most thorough cleaning ever seen! After the cleaning process, we apply a professional application of an impregnation sealer which will leave your floors easier to clean.
1. Pre-Treatment
First we apply a mild solution to a section of the floor and allow it to penetrate for up to 15 minutes. This loosens the accumulated soil, grease, contaminates and topical residue. We do not use harsh acids as these damage tile and grout. This solution does not produce any harmful fumes and ordinary ventilation removes any scent within minutes.
2. Power Scrub Surface
Then special serrated bristles agitate the grout lines as well as the tile surface. Edge cleaning is also done at this time.
3. Turbo Power Rinse
The tile and grout are rinsed using heated high-pressure water. We not only clean the tile and grout but we also sanitize both. The system generates enough pressure and heat to soften and removes years of soil and contaminates.
The floor tool connects to a powerful vacuum hose which sucks the cleaning disk to the floor and confines the water spray inside the disk. There is no splash over to worry about. The vacuum hose draws away the water, along with the dirt to a containment tank.
4. Speed Dry / Inspect
Speed Drying removes all remaining water on floor using high powered air movers put into place to dry tile and grout lines. Then we inspect for any staining and spot clean any surfaces stains.
5. Impregnating Sealer
Several coats are applied, depending upon the porosity of the grout lines. This creates a barrier against future staining, and will not change the color of your grout lines. Excessive sealer is buffed off tile and grout after appropriate drying time.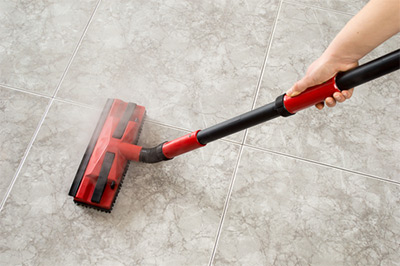 Helpful Cleaning Facts
FACT #1 – Over ninety percent of Professional Carpet Cleaners use Hot Water Extraction (Steam) Cleaning as their primary method for residential cleaning.
FACT #2 – No cleaning method removes all soiling. Hot Water Extraction (Steam) Cleaning, when done properly by a trained, certified professional cleaner, is the most effective cleaning method for removing the greatest percentage of soiling.
FACT #3 – No cleaning method leaves no cleaning solution or moisture residue. Hot Water Extraction is the only method that uses water to freely rinse cleaning solutions from the carpet the same way you use water to rinse your fabrics when they are cleaned in a clothes washer. Hot Water Extraction, used properly, leaves the least amount of residue behind after cleaning.
How Often Should You Clean Your Carpets?
A good rule-of-thumb would be to professionally clean your carpet every eighteen months.
Call us today to schedule an appointment: 877.291.7847
But no carpet is ever "stain-proof", but added carpet protectants, when properly applied, will enhance stain resistance to accidental spills and spots. It will also help remove more dry soil during vacuuming.
Never select a cleaning company solely based on price. Cleaning is not as cheap as some would like for you to think. Their technique is to advertise a low price to get you to call them, so they can push their low-quality, ineffective goods at higher prices than what the real professionals charge. Thorough cleaning is not cheap, but it will extend the useful life of your investment and care for your carpeting in a way that will save you money in the long run.
MOTH Detection
How Do You Know If You are Harboring Them?
The actual flying adults. When a lot of flying adults are present the infestation can be considerable.
Loose carpet fibers resting on top of the pile. This results from the larvae actually eating the knots off the foundation of the rug.
Cocoons – 1/8 inch diameter x 1/2 inch long. They will be slightly fuzzy cylinders, usually the same color as the rug's pile. Larvae camouflage their cocoons to blend in with the color of the wool that surrounds them.
The actual larvae squirming along the pile surface and underneath the rug.
If you're in South Amboy, Perth Amboy, Old Bridge Township, East Brunswick, and Hazlet, NJ, contact us today to schedule an appointment: 877.291.7847. Don't forget about our other cleaning services, which include area rug cleaning, Oriental rug cleaning, drapery cleaning, and more.