Carpet cleaning is the service that is performed to remove dirt, stains, and allergens from carpets. The most common cleaning methods include dry-cleaning, hot water extractions, and vacuuming. Regular carpet cleaning is important because it helps extend the longevity of carpets and other fabrics. 
Lov 'N Kare Carpet Center is a premier carpet cleaning company that offers cleaning services for carpets, hardwood floors, rugs, and tile floors. Our professional cleaning specialists can clean, repair, install, and re-stretch carpets.
Rug Cleaning Services in Summit, NJ
Cleaning rugs regularly is important because rugs are often placed in high-traffic areas. It is recommended to vacuum your area and oriental rugs on a regular basis. However, even though this will help keep your rugs look decent, they cannot remove all debris. The fiber of the rugs can hold on to dirt, pollen, dust, and other elements. For this reason, professional cleaning is so important. Lov 'N Kare Carpet Center in Summit, NJ specializes in both area and oriental rug cleaning.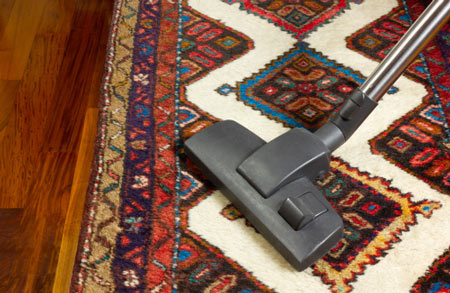 Oriental Rug Cleaning
We specialize in oriental rug cleaning that leaves your rugs spotless, with no more dirt or dust. Here is our step-by-step procedure for oriental rugs care:
Inspection.

We conduct a thorough inspection, so the whole rug and all the problems are visible. It is important to inspect rugs regularly before problems become too serious, and it is still possible to make repairs. 

Dusting and beating.

The primary purpose of this step is to remove dry soil – one of the worst enemies of any carpet. In order to remove it completely, we use the large beating machine that vacuums and cleans the entire rug, so all sand and dirt fall out. 

Spotting.

Pre-treating stains is the next step. We specialize in treating stains from pet urine, blood, wine, ink, fruit, oil, and paint stains. 

Presoaking.

When treatment for stains is done, we start the presoaking process. In this process, we do not use any chemicals detergents because they have a negative impact on the durability and luster of the rug's wool. 

Washing and grooming.

We put rugs in a huge washing machine that is equipped with three lines of soft brushes that scrub the rug. Then goes double rinse followed by a wringer that squeezes the excess water out. At the end of the washing process, we treat fringes, groom the pile, and deodorize. 

Drying

. We place clean rugs in the special dry heated room where rugs stay for 2-4 hours until they are completely dry. 

Inspection.

When the rug is dry, we conduct an inspection that reveals whether the rug needs to be vacuumed, cleaned, and re-spotted again. We will the entire cleaning process again if necessary. 
Area Rug Cleaning
Our process of area rug cleaning is similar to the process of oriental rug cleaning, and it includes the same steps:
Inspection.

We inspect your rug first to identify any problems that may not be visible to you. 

Dusting/beating

. The next step is the removal of dry soil that cannot be completely removed with the standard vacuum process. At this step, we use a beating machine that effectively vacuums a rug and removes all the dirt and sand. 

Spotting

. If there are any stains, we identify and treat them. We specialize in removing stains from urine, blood, wine, fruits, and paint stains. 

Presoaking.

When all the dust and stains are removed, it is time to actually wash the rug. Gallons of warm water and soap flakes and rotary scrubbers are used to make the rug clean. We do not use any detergents or chemicals as we are aware of their negatives effects on the rugs' wool. 

Drying

. Clean rugs are places in the special drying heated room where they are getting dry within the next 2-4 hours. We always control the drying time by exhausting humidity and circulating the air. 

Inspection.

The final step is an inspection that is conducted after the cleaning process is complete. If the rug is completely clean, we wrap it and deliver it back to the customer. If not, we repeat the cleaning process. 
Carpet Cleaning Services in Summit, NJ
According to cleaning experts, you need to clean your carpet every 6-12 months. Lov 'N Kare Carpet Center specializes in carpet cleaning by using the most advanced and effective technologies and cleaning methods. The carpet cleaning services that we provide are fast, safe, and effective. 
Carpet Cleaning
Our process of carpet cleaning includes 10 steps, such as: 
Pre-inspection. A Lov 'N Kare Carpet Center will visit your home and do an inspection to determine the carpet construction and soiling conditions. 

Pre-vacuum. Your carpet is pre-vacuumed in order to remove dry soil. 

Furniture moving. Certain furniture, including chairs, tables, and sofas will be moved. We will not move larger pieces of furniture but will protect them with disposable tabs and blocks. 

Pre-spray and pre-shoot. We treat spots and traffic areas. 

Pre-grooming. In order to pre-groom carpet, we use a special rotary cleaning machine. 

Extraction and rinsing. The carpet is thoroughly washed and flushed with hot water. We regulate the heat and pressure to prevent your carpet from getting over-wet. 

Neutralize. We conduct an extract and rinse process or apply a post spray in order to balance the PH of the carpet. 

Post spot treatment. We remove all the remaining spots on the carpet. However, they may be certain stains that cannot be removed. 

Post grooming. We set the carpet pile in one direction to facilitate the drying process.

Post inspection. Our specialists do a walkthrough to make sure that your carpet is clean. 
Spot Cleaning
The Lov 'N Kare Carpet Center specialists are highly skilled spot and stain removal technicians that use the most effective, safe, and environmentally friendly methods to make your carpet look amazing again. 
Do you need professional carpet cleaning services in Summit, NJ?
Even if you vacuum your carpet and your rugs every day and they seem to be clean, you will still need professional carpet cleaning services at some point, especially if you have children, pets, or your home is the central hub for your family. It is recommended to use professional carpet cleaning services at least every 12 months. Lov 'N Kare Carpet Center is a team of highly skilled cleaning technicians, who will make their best to make your carpets and rugs look great again.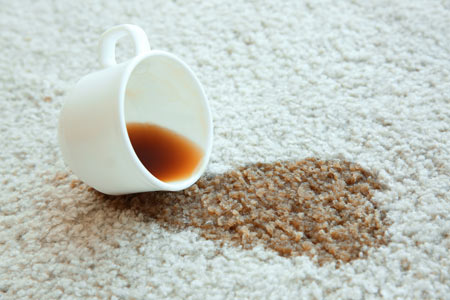 Carpet Cleaning FAQs
Here are the answers to the most common questions about our company and services:
Do you offer Steam Cleaning?
Our trained and certified professionals use hot water extraction (steam cleaning) – one of the most effective cleaning methods. 
Can you repair my oriental rug?
We repair oriental rugs damaged by moths, burns, wear and tear, pets, etc. 
Can water damage to my carpet be fixed?
Yes, we can fix the water damage. We use the most advanced equipment to remove moisture from your carpet