Keeping your rugs and carpets clean is important. It is beneficial for both you and your carpet's health. Many people believe that vacuuming carpets and rugs regularly is enough. However, the truth is even though your carpet may look clean, you will also need professional cleaning at some point. The most common cleaning methods are hot water extractions, vacuuming, and dry-cleaning. 
Lov 'N Kare Carpet Center is one of the leading carpet cleaning companies in the state of New Jersey with a lot of experience. We are able to handle all floor care needs of our clients – from sales to cleaning and even installation. 
Rug Cleaning Services in Red Bank, NJ
It is important to keep your rugs clean, especially if they are placed in high-traffic areas. A professional rug cleaning service helps keep your rugs free from pollutants, debris, sand, and other contaminants. Lov 'N Kare Carpet Center specializes in cleaning all types of rugs, includes oriental and area rugs. All products we use in our cleaning services are absolutely baby/pet and environmentally safe. 
Oriental Rug Cleaning
At Lov 'N Kare Carpet Center, we clean oriental rugs professionally by leaving them spotless. Here is how our cleaning procedure looks: 
Inspection.

We inspect a rug first to identify problems that may not be visible. 

Dusting, beating.

The next step is removing dry soil with the help of a large beating machine. 

Spotting

. The next thing we do is treating spots. We successfully remove spots from blood, pet urine, paints, fruits, ink, and other substances. 

Presoaking

. After spots are treating, we start the process of presoaking. We use hot water and soap, but we do not use any detergents or chemicals because they can damage the rug. 

Washing and grooming.

Rugs are washed in a special huge washing machine. When washing is done, we do some grooming that includes grooming the pile, treating fringes, deodorizing. 

Drying.

Our drying process includes placing a rug in the heated drying room. It will take about 2-4 hours for rugs to get completely dry. 

Inspection.

The last step is inspecting the rug again to make sure it is clean. If it is not, then we will repeat the cleaning process again. 
Area Rug Cleaning
At Lov 'N Kare Carpet Center, we also do area rug cleaning, which is similar to the process of oriental rug cleaning. There are similar seven steps:
Inspection.

We start the cleaning process by identifying the problems. 

Dusting and beating.

After inspection, we remove dry soil that is considered one of the main enemies of any rug. Unfortunately, it cannot be removed completely with the regular standard vacuum process at home. 

Spotting.

 We are able to get rid of all types of stains, including stains from pet urine, wine, blood, and other substances. 

Presoaking.

The next step is washing the rug. We use rotary scrubbers, gallons of warm water, and soap. We never use chemicals or detergents because we are aware of their negative effect on the rugs' wool. 

Drying.

We hang rugs on poles and place them in the heated drying room for several hours until they are completely dry. 

Inspection.

Finally, we perform another inspection to check if the rug needs to be spotted and vacuumed again. If there are any spots left, the cleaning process will be repeated. 
Carpet Cleaning Services in Red Bank, NJ
Do you live in Red Bank, NJ, or any other nearby town, and you are looking for a cleaning company to take care of your carpet?  Lov 'N Kare Carpet Center is ready to help. Our cleaning methods are updated to the latest equipment and most current technology, which makes our company one of the best in this industry. 
Carpet Cleaning
Our carpet cleaning process consists of the following steps:
Pre-inspection. The process starts with the visit of our specialist, who will do a walkthrough in order to determine problems and your carpet structure.

Pre-vacuum. Your carpet will be vacuumed with the purpose of removing dry soil.

Furniture moving. Our specialist will move smaller pieces of furniture, such as chairs and tables. Only bigger pieces of furniture will stay. 

Pre-spray and pre-spot. We will pre-treat spots and traffic areas. 

Pre-groom. Depending on soil level, we will pre-groom your carpet with either a cleaning machine or carpet groomer. This will help loosen traffic area soil. 

Extract and rinse. We use the hot water extraction cleaning method to flush the carpet pile. In order not to over-wet the carpet, we always control and regulate the temperature and pressure of the water. 

Neutralize. According to most manufacturers of carpets, the extract and rinse process is one of the most important steps because it helps balance the pH level on every carpet. 

Post spot treatment. If there are still any spots left, we will use special 
Spot Cleaning
One of the best things you can do in order to help your carpet look great for many years is vacuuming. However, rugs and carpets become stained very quickly, and vacuuming may not be enough. Then, you may need professional spot cleaning.  At Lov 'N Kare Carpet Center, we specialize in spot and stain removal, and the methods we use are environmentally friendly, effective, and absolutely safe. 
Do you Need Professional Carpet Cleaning Services in Red Bank, NJ?
Yes, you do, especially if you have children or pets. It is recommended to clean your carpets professionally every 6-12 months. For those who live in Red Bank, NJ, or any other nearby town, and looking for a cleaning company, Lov 'N Kare Carpet Center is exactly what you need. Experienced specialists of our company will do their best to make your carpets look like new again.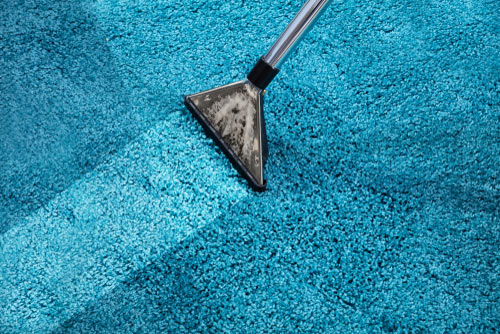 Carpet Cleaning FAQs
If you have any questions about the process of carpet cleaning and Lov 'N Kare Carpet Center, here are the answers to a few of them:
Do you offer Steam cleaning?
Yes, we use one of the most effective methods called hot water extraction. 
Can you repair my oriental rug?
We have experience in repairing all types of oriental rugs, especially those that were damaged by pets, wear and tear, and moths.