A professional carpet cleaning service is used to remove dirt, dust, bacteria, and other allergens that will help you and your family to breathe easier and prevent many health issues. Moreover, it also helps maintain your carpets and rugs in a good condition and prolong their lifespan. 
Lov 'N Kare Carpet Center is one of the leading carpet cleaning companies in NJ that offer cleaning services for rugs, carpets, floors, and tile. Our specialists are highly skilled and experienced professionals who specialize in cleaning, repairing, installing, and re-stretching carpets. 
Rug Cleaning Services in Montclair, NJ
It is important to clean your rugs professionally on a regular basis, especially if they are placed in high-traffic areas. Many people believe that vacuuming their rugs and carpets regularly is enough. However, unfortunately, even though it will help keep them clean, regular vacuuming cannot remove all the debris, dirt, and dust. Therefore, professional rug cleaning that is performed at least once a year is so important. If you are a resident of Montclair, NJ, or any other nearby town, you can always contact Lov 'N Kare Carpet Center that does both area and oriental rug cleaning. 
Oriental Rug Cleaning
Lov 'N Kare Carpet Center cleans oriental rugs and does it right. Here is how our rug cleaning process looks, including all the steps: 
Inspection

. The process starts with an inspection that allows to identify problems that may not be too visible. 

Dusting/beating

. By using a special large beating machine, we vacuum and clean the entire rug and make dry soil fall out. 

Spotting

. The next step is to remove spots if there are any. Our technicians have experience in removing stains from paint, urine, blood, wine, ink, oil, fruits, and others. 

Presoaking.

After treating all the stains and spots, the next step is presoaking that includes using warm water, soap flakes, and rotary scrubbers. We do not use any chemicals for washing rugs because they may negatively affect the rug. 

Washing and grooming.

In order to wash rugs, we use big washing machines. After washing is done, rugs are rinsed and squeezed to get rid of excess water. 

Drying.

The drying process includes placing a wet rug in a special drying room for a few hours. 

Inspection.

The final process is conducting an inspection again that will tell whether the cleaning process was successful or not. If not, then we will repeat it again.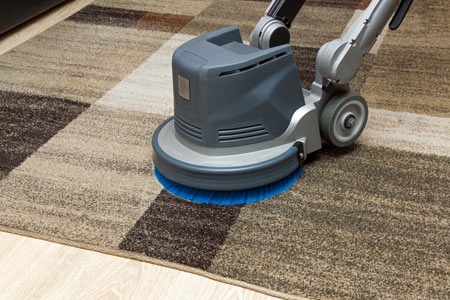 Area Rug Cleaning
An area rug is an accent rug that is usually used to anchor furniture in a room. The process of cleaning of accent rugs is similar to the process of oriental rug cleaning. The steps are also the same:
Inspection. Our professionals inspect an accent rug and identity whether it needs to be cleaned or not. 

Dusting and beating. Getting rid of dust is one of the main steps. Our powerful beating machines help remove all the dust soil and sand.

Treating spots. We know how to get rid of spots of urine, ink, blood, fruits, wine, and others. 

Presoaking. It starts after the treatment for stains is completed. In presoaking, we use a lot of water and soap flakes, but we do not use any detergents or chemicals

Washing and grooming. Special huge washing machines are used to wash the rugs. Then they are squeezed to remove water. 

Drying. We have special drying heated rooms for rugs where they get dried. It usually takes 2-4 hours depending on the size of the rug and the material it is made of. 

Inspection. The final inspection is needed to make sure that the cleaning process was successful. In case if cleaning did not work, we will repeat it. 
Carpet Cleaning Services in Montclair, NJ
It is recommended to do professional carpet cleaning at least once a year. Lov 'N Kare Carpet Center uses the most advanced and effective methods and technologies to clean carpets and rugs. Our services are fast and absolutely safe. 
Carpet Cleaning
The service of carpet cleaning that we provide includes ten following steps:
Pre-inspection. Our technician will visit your home and do a walkthrough in order to understand the construction of your carpet. 

Pre-vacuum. We pre-vacuum your carpet, which allows getting rid of dry soil.

Moving furniture. We will have to move certain furniture, including tables and chairs. Bigger pieces of furniture will stay, but we will use disposable blocks and tabs to protect them.

Pre-shoot and pre-spray. The purpose of this step is to treat traffic areas and spots on the carpet. 

Pre-grooming. It is performed with a rotary cleaning machine that allows to loosen traffic area soil. 

Extraction and rinsing. We use hot water to clean the carpet thoroughly. In order to prevent over-wetting of the carpet, our specialists regular the pressure and heat of the water. 

Neutralize. In order to balance the PH level of the carpet, we apply a special post spray. 

Post spot treatment. If there are any spots left on the carpet, we will try to remove them. 

Post-grooming. This procedure helps carpets dry faster and in the right direction. 
Spot Cleaning
The specialists of Lov 'N Kare Carpet Center use the most advanced, environmentally friendly, and safe methods to remove spots on carpets. As a result, your carpet will look new again. 
Do you need professional carpet cleaning services in Montclair, NJ?
Even if your carpet looks clean and you were able to remove all the spots yourself, it still can benefit from professional carpet cleaning. Professional cleaning is recommended to those who have pets and children. Cleaning experts recommend doing the carpet cleaning at least once a year. If you live in Montclair, NJ, or any other nearby area and you are looking for a trustworthy company for carpet cleaning, Lov 'N Kare Carpet Center is ready to assist you.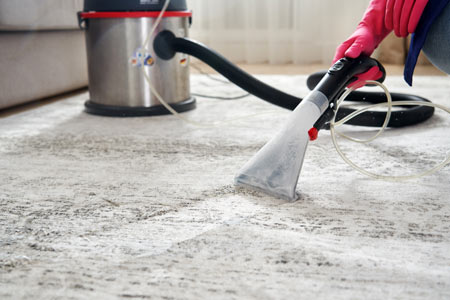 Carpet Cleaning FAQs
Here are the answers to the most common questions about our company and the services we offer.
Do you offer Steam Cleaning?
Yes, we do steam cleaning. It is considered one of the most effective cleaning methods. 
Can you repair my oriental rug?
Yes, we repair oriental rugs that were damaged by pets, moths, wear and tear, etc. 
Can water damage to my carpet be fixed?
Yes, our professional cleaners use special drying agents and machines that help remove the excess moisture from carpets and prevent mold and mildew infestation.