Cleaning carpets is obviously important – for both aesthetic reasons and the health of you and your family members. There are several methods, including vacuuming, hot water extraction, and dry cleaning. You can clean the carpet yourself, or use professional carpet cleaning to make your rugs and carpet look perfect. 
If you are looking for a premier carpet cleaning company in New Jersey, here is Lov 'N Kare Carpet Center – the company that provides different carpet cleaning services. Our specialists can clean, repair, install, and even re-stretch your carpets and rugs. 
Rug Cleaning Services in Holmdel, NJ
Cleaning rugs are important, especially if they are in high traffic area. You should at least vacuum your rugs regularly. However, it is not enough because the fiber of your rug contains many contaminants, including dust and pollen. Therefore, at some point, you will need professional rug cleaning. At Lov 'N Kare Carpet Center, we clean professionally and thoroughly different types of rugs, including oriental and area rugs.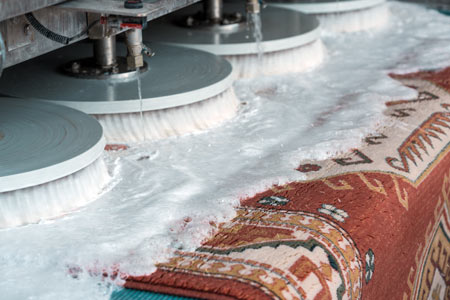 Oriental Rug Cleaning
We provide high-quality oriental rug cleaning that will keep your rugs clean and well-taken care of. We are able to bring your dirty and highly traffic rugs back into a condition you can be proud of. Our process of cleaning oriental rugs includes the following steps:
Inspection.

The initial inspection is the first and most important step because it helps identify problems that may not be visible to you. 

Dusting/beating.

The purpose of this step is to get rid of dry soil. It is considered the main enemy of any rug. We do it with the help of the huge beating machine

Spot treatment.

By using the most advanced spotting techniques, our specialists remove spots caused by urine, wine, blood, paint, and other substances. 

Presoaking.

The presoaking process starts when we are done with spot treatment. We pump hundreds of gallons of water and soap onto each rug. The most important thing is that we do not use any chemicals or detergents because of their negative effect on the rug's fiber.

Washing and grooming

. We put rugs into the large washing machine that is equipped with soft and powerful brushes. They scrub rugs and then squeeze the excess water out. We groom after the washing is finished, which includes grooming the rug's pile, treating fringes, and deodorizing. 

Drying.

Rugs are placed into the special drying room where they remain for up to 4 hours until they are completely dry. 

Inspection

. The final step is the inspection again, the purpose of which to find out whether the cleaning process was successful or not. If it was, then the rug is wrapped and delivered back to the client. If not, we repeat cleaning again. 
Area Rug Cleaning
Our area rug cleaning process is powerful to remove all the dust and dirt, and it is also gentle to protect rugs' colors. We clean area rugs the same way as oriental rugs. There are the same steps in this process:
Inspecting the rug is the first step that allows our specialists to understand what the problems are.

Then the rug is heated in the special beating machine, which allows removing dry soil. 

Dusting and beating are followed by spot treatment. We use the most advanced and safe techniques to remove different types of stains. We specialize in stains from wine, pet urine, blood, fruits, and others. 

By pumping gallons of water and soap, we wash rugs. We never apply any chemicals or detergents, which makes our presoaking process safe and environmentally friendly. 

The next step is putting the rug into the special washing machine. When washing is done, we then perform routine grooming. 

After that, we place rugs into the drying room for a few hours. We circulate the air and exhaust humidity, which allows us to control the drying time. 

At the end of the cleaning process, we inspect rugs again to make sure that the cleaning was successful. We may repeat it again if necessary. 
Carpet Cleaning Services in Holmdel, NJ
Even if your carpet looks clean and nice, professional carpet cleaning is important and should be performed once or twice a year. Lov 'N Kare Carpet Center is a professional service company that specializes in carpet cleaning and repairs. The services we provide are top-quality and safe. 
Carpet Cleaning
Our process of cleaning carpets includes 10 steps:
First, our specialist does a walkthrough and inspects the carpet in order to determine its construction. 

Then, the carpet is vacuumed, which allows removing dry soil and other contaminants.

The third step is moving furniture. Our specialty moves small pieces of furniture only (chairs and tables), while larger pieces (dressers, beds) are left in place. 

The next thing we do is traffic areas and spot treatment. 

It is followed by grooming that is performed with the special rotary machine. 

After that, the carpets are flushed and washed thoroughly with hot water. In order to prevent the carpet from getting over-wet, we always control the temperature and pressure of the water we are using. 

The pH is balanced on every carpet we clean. This process is called neutralization, and it is one of the most important steps in the carpet cleaning process. 

Then, we treat all the stains and spots on the carpet. However, there may be certain permanent spots that cannot be removed.

Drying is the next step. In order to facilitate the drying process, we set the carpet pile in an order direction. 

The last step is the final inspection to check whether the cleaning process was successful or not. 
Spot Cleaning
At Lov 'N Kare Carpet Center, we have highly skilled and experienced professionals who know how to remove all types of spots and stains by using the safest, most effective and absolutely environmentally friendly methods. Our mission is to make your carpet look new again. 
Do you need professional carpet cleaning services in Holmdel, NJ?
Even if you think that you are able to take care of your carpet yourself, and it looks clean enough, professional carpet cleaning is still important. It should be performed once or twice a year, especially if you are a pet owner or have kids. 
Carpet Cleaning FAQs
In this section, you will find answers to the most common questions about our company.
Do you offer Steam Cleaning?
Yes, we do offer steam cleaning. This method is also called hot water extraction, and it is considered one of the most effective methods. 
Can you repair my oriental rug?
We have experience in repairing oriental rugs that were damaged by regular wear and tear, pets, burns, moths, and others. 
Can water damage to my carpet be fixed?
Yes, we use the most advanced and innovative techniques that help to extract moisture from carpets.