A soaked or flooded carpet can be fully restored if you act fast.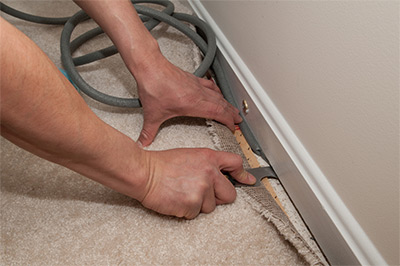 It's best to act quickly. The faster Lov 'N Kare Carpet Center can dry it, the less chance of mold, mildew, color run, shrinkage or rippling. We take care of emergencies within the 1st 24 hours of your call.
We have special equipment that works fast!
We use heavy duty water extractors and special drying agents to remove the moisture from your carpet so that you can avoid mold and mildew infestation. If your carpet has underlying padding we may have to detach it from the floor to dry.
Lov'n Kare Carpet will do a professional and thorough job for you, no matter what time of day or night! We accept every challenge from water damaged carpets and have developed special techniques to restore your carpet to its original state.
Step 1
Identify the source of the flood or leak, which will determine whether your carpet is salvageable. "Sanitary" water comes from pipes or rain, while "unsanitary" water comes from overflowed toilets and other sources that may be slightly contaminated. A carpet that has come into contact with "black" water, such as raw sewage or groundwater, should be discarded as soon as possible.
Step 2
Stop the water flow to prevent any further damage. If you have any difficulty, consult a plumber or engineer who can help you to isolate the source.
Step 3
Disinfect the wet area by scrubbing it with a cleaning solution made up of a few tablespoons bleach dissolved in a gallon of water. Remember to ventilate the room that you are cleaning—some of these fumes may be toxic.
Step 4
We will remove the carpet around the wet spots using a box-cutter and lift up the carpet. Discard the padding underneath and keep the carpet elevated. If you have furniture in the room, either remove it altogether or hoist it up on blocks so that the floor area is open.
Step 5
Set up industrial-sized fans that directly blow onto the soiled area. Run them on high for at least 36 hours following the incident, being careful to keep electric cords away from the wet areas. It is also helpful to set up a dehumidifier to speed up the drying process. A professional cleaning service can help you with this task.
Step 6
Keep foot traffic to a minimum on the drying carpet. This will help maximize the airflow to the wet spots and prevent weakening of the laminate seal underneath.
Step 7
Check your carpet's progress after 12 hours. If the fans have not helped, you should consider carpet replacement–12 hours is sufficient time for mold to develop and if the carpet has not dried up noticeably by then, you may be at risk for hazardous allergens.
Step 8
Contact your insurance agent to discuss the situation, particularly if you reside in a condominium. Depending on how the leak or flood occurred, you may not be responsible for the restoration expenses.
Helpful Cleaning Facts
FACT #1 – Over ninety percent of Professional Carpet Cleaners use Hot Water Extraction (Steam) Cleaning as their primary method for residential cleaning.
FACT #2 – No cleaning method removes all soiling. Hot Water Extraction (Steam) Cleaning, when done properly by a trained, certified professional cleaner, is the most effective cleaning method for removing the greatest percentage of soiling.
FACT #3 – No cleaning method leaves no cleaning solution or moisture residue. Hot Water Extraction is the only method that uses water to freely rinse cleaning solutions from the carpet the same way you use water to rinse your fabrics when they are cleaned in a clothes washer. Hot Water Extraction, used properly, leaves the least amount of residue behind after cleaning.
How Often Should You Clean Your Carpets?
A good rule-of-thumb would be to professionally clean your carpet every eighteen months.
Call us today to schedule an appointment: 877.291.7847
But no carpet is ever "stain-proof", but added carpet protectants, when properly applied, will enhance stain resistance to accidental spills and spots. It will also help remove more dry soil during vacuuming.
Never select a cleaning company solely based on price. Cleaning is not as cheap as some would like for you to think. Their technique is to advertise a low price to get you to call them, so they can push their low quality, ineffective goods at higher prices than what the real professionals charge. Thorough cleaning is not cheap, but it will extend the useful life of your investment and care for your carpeting in a way that will save you money in the long run.
MOTH Detection
How Do You Know If You are Harboring Them?
The actual flying adults. When a lot of flying adults are present the infestation can be considerable.
Loose carpet fibers resting on top of the pile. This results from the larvae actually eating the knots off the foundation of the rug.
Cocoons – 1/8 inch diameter x 1/2 inch long. They will be slightly fuzzy cylinders, usually the same color as the rug's pile. Larvae camouflage their cocoons to blend in with the color of the wool that surrounds them.
The actual larvae squirming along the pile surface and underneath the rug.
If you're in South Amboy, Perth Amboy, Old Bridge Township, East Brunswick, and Hazlet, NJ, contact us today to schedule an appointment: 877.291.7847. We're also available for carpet repair and installation!