Repairing and re-stretching rugs are often a great alternative to completely replacing your rugs.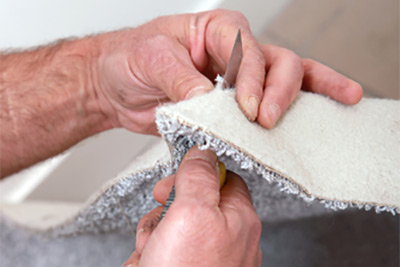 You don't always need new wall-to-wall carpets; you can save time and money by having your carpets restretched with Lov 'N Kare Carpet Center.
With all of the traffic that our carpeting gets, it's not surprising that it occasionally gets damaged. But, many homeowners are unaware that there is a middle ground between replacing your entire carpeting and rearranging your furniture to hide the damaged spots. In fact, carpeting professionals can often repair the damage that your carpeting has incurred.
Before you call us, here are some tips to fix some common carpet ailments:
Problem: Oriental Rug fibers are Fringing
Solution: Come to us for a full restortation
We can repair any damage done to oriental rugs by normal wear and tear; moth damage; burns; pet damage, etc. whaterver happens to your rug we can repair it.
Problem: Loose or wrinkled areas of carpeting
Solution: Restretching is used for loose and wrinkled carpets.
Like a facelift, re-stretching makes carpeting tight again. To make sure your carpet stays in shape longer we guarantee our carpet stretching by using a POWER-STRETCHER instead of a Knee Kicker. This also prolongs the carpet's life by eliminating wrinkles which can cause the carpet to wear more quickly from the constant back and forth bending that occurs when they are stepped on. It also reduces the danger of tripping on the loose material.
Problem: Burns such as Fireplace Embers, Cigarettes, Lamps, Candleburns, & Irons
Solution: Rest assured, most carpet burns can be fixed by patching it.
Problem: Candle Wax spill on carpet.
Solution: There are several solutions available:
First, try to remove as much of the wax by hand
Freeze the wax with a ice cubes
Shatter it with a blunt object, then remove by hand
Note: The colder the wax, the easier it is to remove
Still not working?…
Place a brown paper bag over wax area
Iron the top of the brown bag on low heat setting
Allow the wax to transfer on to the brown paper bag
Use a new brown bag frequently to prevent smearing
If the above methods fail, a patch would be neccessary. An extra piece of carpet certainly helps. If there is none available we can take the extra carpet from a closet, under a piece of furniture or even from under a wall or vent hole if it's small enough.
Problem: Bleach Stain
Solution: A bleach stain on the carpet has to be the 2nd most upsetting concern for our customers (berber snag is #1). As upsetting as it may be, it is one of the easiest to repair. Depending on the size of the bleach stain on your carpet, we can fix it by performing a simple Carpet Patch.
The solution is to cut the bleach area away and put a patch. Cutting your carpet sounds scary, but one of our Master Carpet Technician are skilled in applying the patch so perfectly, lining up the carpet threads with seamless precision.
Helpful Cleaning Facts
FACT #1 – Over ninety percent of Professional Carpet Cleaners use Hot Water Extraction (Steam) Cleaning as their primary method for residential cleaning.
FACT #2 – No carpet cleaning method removes all soiling. Hot Water Extraction (Steam) Cleaning, when done properly by a trained, certified professional cleaner, is the most effective cleaning method for removing the greatest percentage of soiling.
FACT #3 – No cleaning method leaves no cleaning solution or moisture residue. Hot Water Extraction is the only method that uses water to freely rinse cleaning solutions from the carpet the same way you use water to rinse your fabrics when they are cleaned in a clothes washer. Hot Water Extraction, used properly, leaves the least amount of residue behind after cleaning.
How Often Should You Clean Your Carpets?
A good rule-of-thumb would be to professionally clean your carpet every eighteen months.
Call us today to schedule an appointment: 877.291.7847
But no carpet is ever "stain-proof", but added carpet protectants, when properly applied, will enhance stain resistance to accidental spills and spots. It will also help remove more dry soil during vacuuming.
Never select a cleaning company solely based on price. Cleaning is not as cheap as some would like for you to think. Their technique is to advertise a low price to get you to call them, so they can push their low quality, ineffective goods at higher prices than what the real professionals charge. Thorough cleaning is not cheap, but it will extend the useful life of your investment and care for your carpeting in a way that will save you money in the long run.
MOTH Detection
How Do You Know If You are Harboring Them?
The actual flying adults. When a lot of flying adults are present the infestation can be considerable.
Loose carpet fibers resting on top of the pile. This results from the larvae actually eating the knots off the foundation of the rug.
Cocoons – 1/8 inch diameter x 1/2 inch long. They will be slightly fuzzy cylinders, usually the same color as the rug's pile. Larvae camouflage their cocoons to blend in with the color of the wool that surrounds them.
The actual larvae squirming along the pile surface and underneath the rug.
If you're in South Amboy, Perth Amboy, Old Bridge Township, East Brunswick, or Hazlet, NJ, contact us today to schedule an appointment: 877.291.7847. We're also available for water damage restoration and carpet installation!